Le traitement de l'attachement insécure chez les adultes.
S'inscrire
Treating Insecure Attachment in Adults : The Three Pillars of Comprehensive Attachment Repair.
avec David S. Elliott, Ph.D.
Le 24 et 25 octobre 2019
Since John Bowlby's and Mary Ainsworth's pioneering work on the development and nature of attachment in children, there has been great interest in how early attachment problems affect adult relationships and well-being. Though there is now very good understanding of the origins and identification of attachment disturbances in adults, clinicians are often dismayed by the difficulties of helping clients move from attachment insecurity to security. Some treatments can be effective, but typically take a very long time and often do not produce comprehensive or stable change.
This workshop will include :
- a foundation in attachment theory, the development of the attachment bond, assessment, and current treatments.
- the theoretical foundations and detailed practical description of a state-of-the-art, highly effective and efficient method for treating adults with attachment disturbances.
Emphasis will be on practical applications for clinicians, and will include demonstration sessions and opportunities for participants to practice and receive feedback about their experiences of these methods.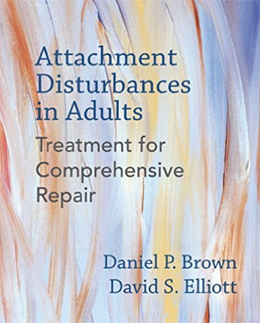 The workshop is based on the recently published text, Attachment Disturbances in Adults : Treatment for Comprehensive Repair (Brown & Elliott, 2016)
"This is an extraordinary achievement – the must-have book on attachment – encyclopedic – everything you needed and wanted to know about attachment, and then some – history, research, typology, AND treatment !"
Diana Fosha

"A masterpiece of integration, creativity, and clinical wisdom...a vibrantly innovative treasure that will endure, one of those rare trail-blazers."
Kathy Steele
Learning Objectives
Participants will :
Understand the maturational and caregiving conditions that contribute to secure, dismissing, anxious-preoccupied, and disorganized attachment.
Understand how the conditions that create secure attachment in children can be a basis for effective and efficient treatment of adult insecure attachment.
Understand the strengths and limitations of current treatments.
Be able to describe the Three Pillars of treatment of attachment disturbances.
Have direct experience of using the Ideal Parent Figure method for creating new, positive representations of secure attachment.
Recognize the common challenges and positive signs of effective use of the Ideal Parent Figure method.
Feel confident about applying the Ideal Parent Figure method in clinical practice.
Understand why metacognition and collaboration are poorly developed when attachment is insecure.
Become familiar with methods for helping clients develop metacognitive skills and collaborative relational behavior.
Feel confident about bringing metacognitive and collaborative methods into clinical practice.
Understand the interdependence of the Three Pillars and their treatment methods.
About the Presenter
David S. Elliott received his Ph.D. in Psychology from Harvard University in 1989. He is a former President of the Rhode Island Psychological Association (USA), and is on the faculty of the International School for Psychotherapy, Counseling, and Group Leadership, in St. Petersburg, Russia. As a clinical psychologist, he has a psychotherapy practice in Providence, Rhode Island, and also consults internationally.



Workshop Content and Schedule
Day 1 : Friday, 24 oktober 2019
9:00 – 10:30
Course Overview Attachment and
- Self-Development
- Relational Development - Emotion Regulation Attachment and Post-Traumatic Conditions
Implications for Treatment
The Foundations of Attachment
The Attachment Behavioral System
- Types of Attachment Bonds
- The Development of the Attachment Bond

- Child Maturation and Caregiver Interactions 10:30 – 10:45 Fika
10:45 – 12:30
Caregiver Behaviors that Predict Each Attachment Type
Treatment of Adult Insecure Attachment
How Understanding of Development Guides Treatment
Current Treatment Models : Strengths and Limitations
The Three Pillars Model
Pillar 1 : Creating New, Positive Attachment Representations
Pillar 2 : Developing Metacognitive Skills
Pillar 3 : Enhancing Collaborative Behavior
12:30 – 13:30 Lunch
13:30 – 14:45
The First Pillar : Ideal Parent Figure Imagery
Demonstration of the IPF Method
Discussion and Guiding Principles
Steps of the Ideal Parent Figure Method
The Five Primary Conditions that Promote Secure Attachment
15:00 – 17:00
Participant Practice of the Ideal Parent Figure Method
Discussion and Integration
Day 2 : Saturday, 25 oktober 2019
9:00 – 10:30
The Assessment of Attachment
Interview Methods
Self-Report Methods
Individualizing the Ideal Parent Figure Imagery
Using Positive Opposites of Negative Early Experiences
Modifications Based on Specific Insecure Attachment Type
Demonstration of Individualizing the IPF Imagery
Discussion and Integration
10:45 – 12:30
Participant Practice of Individualizing IPF Imagery
Discussion and Integration
12:30 – 13:30 Lunch
13:30 – 14:45
Signs of Progress with the Ideal Parent Figure Method
Signs of Secure Base
Common Challenges with the Ideal Parent Figure Method
15:00 – 17:00
The Second Pillar : Developing Metacognitive Skills
Exercise for Recognizing Types of Metacognitive Skills
The Third Pillar : Enhancing Collaborative Behavior
Methods for Enhancing Non-Verbal and Verbal Collaboration
Putting It All Together : The Interplay of the Three Pillars
S'inscrire